- Tell a tale based on random topics in your hand and try to steer the story toward your secret conclusion.
- Appeals to players of all ages.
Cautionary Tales: What is Once Upon a Time?
Fairy tales range from delightful and light to dark and gruesome, and so does Once Upon a Time!
Once Upon a Time is a game in which the players work together to create a new fairy tale using elements from their cards like dungeons, giants, and cauldrons. Steer the story toward the secret ending you hold.
Those endings can be light, like "So the king relented and the two were married," or dark, like "So the evil-doers were thrown into a well." What will your story be? Find out in Once Upon a Time.
In Search of Adventure: Gameplay Basics
In Once Upon a Time, each player takes turns telling the story based on cards from their hand. When cards are integrated into the story, they are played on the table. When a player chooses to pass, begins to ramble, mentions a story card held by another player, or is interrupted with a card, the next person at the table picks up the story.
To win the game, play all of your story cards and steer the story to the ending card held in your hand! And they all lived happily ever after…we hope.
Seafaring Tales Expansion
- Add variety to your Once Upon a Time games.
-Bring swashbuckling pirates and seafaring adventure to your stories.
Buried Treasure and Deep Sea Monsters: More about Seafaring Tales
Yo ho! Yo ho! A pirate's life for me! If you've ever dreamt of adventure on the high seas,this Once Upon a Time expansion is for you!
Add pirates, deep sea adventure, and buried treasure to your Once Upon a Time games. Because who doesn't want to befriend a mermaid who can teach them to breathe underwater and lead them to the plunder hidden away in a sunken pirate ship? Spin your own pirate yarns and add more variety to your game with this expansion.
Knightly Tales Expansion
-Add variety to your Once Upon a Time games.
-Bring chivalrous knights and valorous deeds to your stories.
-Expands your Once Upon a Time tales with a total of 55 chivalry-filled cards.
Gallant Knights and their Ladies: More about Knightly Tales
From the moment they sign on as squires, knights' lives are full of adventure! Battle evil wizards and stand up against injustice with this Once Upon a Time expansion. 
Sing ballads (actual singing optional) about brave knights who rescue ensorcelled bandits from evil ladies. Wait. What?! The story is guaranteed to take you in unexpected directions in Once Upon a Time.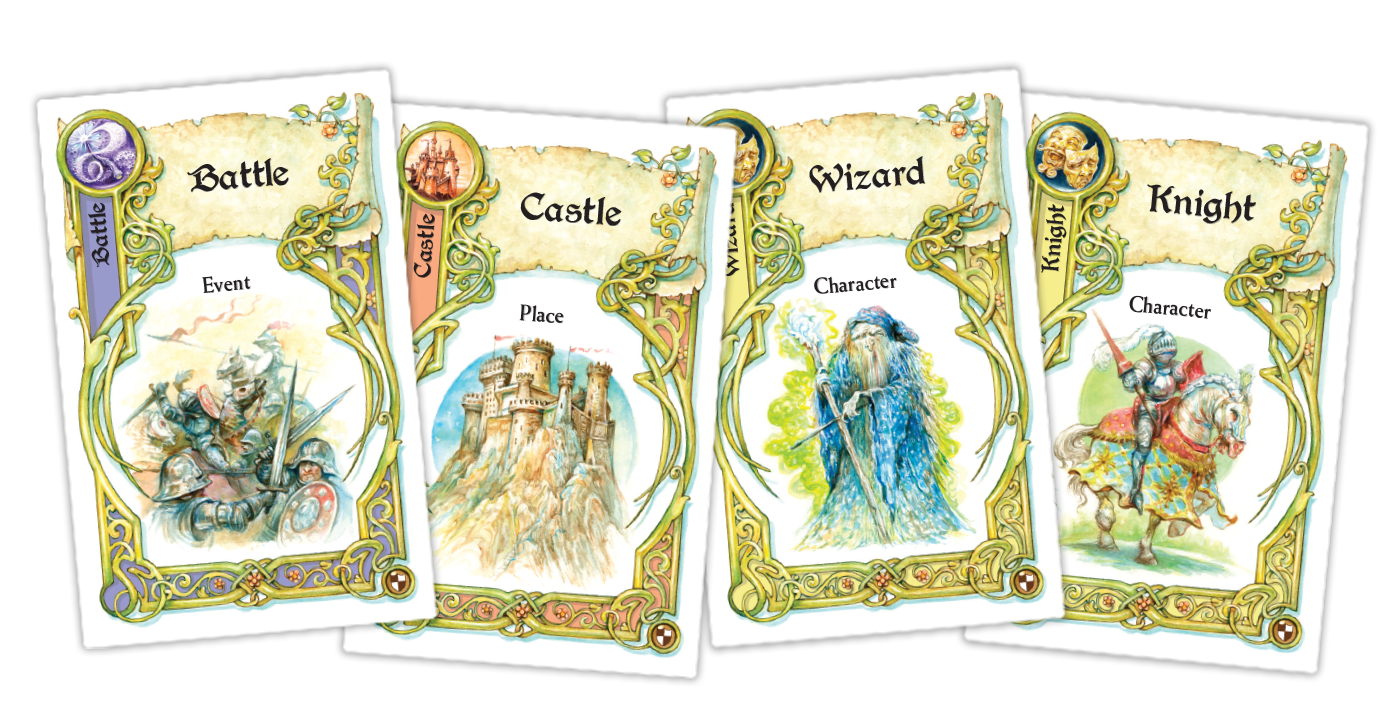 Fairytale Mash-ups Expansion
-An expansion for Once Upon a Time that brings the essential elements of the greatest fairytales into the same story.
-Everything you remember from childhood tales blends into mixed-up stories where the Gingerbread Man shoves the dish aside and runs away with the spoon himself.
-Contains 55 new cards to expand Once Upon a Time.
When Classic Stories Collide: More About Fairytale Mash-ups
Everyone knows Cinderella, Humpty Dumpty, and the Three Bears. And everyone knows to avoid magic bean peddlers and ovens big enough for children. But what happens when all these classics — and more! — come together in the same story?
Imagine together what would happen when Puss in Boot and the Three Bears meet up for a birthday party and someone gets turned to gold. As with every other Once Upon a Time expansion, Fairytale Mash-ups brings a whole new dimension to your storytelling fun.